Classroom Course
All classes are (8 am - 3 pm)

Weekday Classes: 4 days (View Schedule Below). Holidays, Christmas, Spring Break, and Summer vacation. You can finish the entire training in one week. You may complete the course by attending 4 days in a sequence, or you can mix and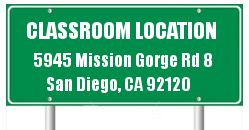 match the classes any way you need in order to complete the course. You can start the classes at any class number.
Saturday Classes: 4 Saturdays (8am-3pm). Start on any Saturday. Just show up on any Saturday* morning and start the classes immediately. No appointments necessary.
*Please Note: We do not offer classes on 5th Saturday of a month. Please check the schedule below. In December and during Summer vacations we offer only 4-day weekday classes; no Saturday classes.
NOTE: No Saturday classes in June, July, August, but weekday classes only, Mon-Thu (8am-3pm). Please click below to view class schedule!
How to enroll in our classes
Simply show up at 8:00 Am and you can start the training with any class number. You need to bring $90 payment for the driver education classes. If you would like to pre-pay with your credit card, please click below and pay.

Students who cannot complete all 4 days in-class training, may combine our classroom training and internet training and finish the driver education course faster. There is no extra charge.
Please Note: Saturday classes are not offered during Summer vacation (July, August). During Summer vacation we offer weekday classes.
CLASSROOM LOCATION
Teen Driving School 5945 Mission Gorge Rd 8, San Diego, CA 92120